...WHAT LOVE CAN DO...
...love - and a SOLID dose of "mediterranean diet": a new clean warm spring sun, repeated showers of
no-chlore clean fresh water (straight from the hill above), half a kilogram of good fertile hearth (from the
feet of the most beautiful lemon tree up above the garden), and three days of patience, sweat, "DAMN!s",
hands dirty up to the elbows...AAATCHOOOO!!!...and my neverending fluuuOOOOTTCHOOO!!!...
some of you friends will remember my grumpiest mood six months ago, when my green little elder brothers
caught a bad illness in a very unexpected and unusual way: the OIDIO, a vine parasite, had reduced them all
there to die...then, patience, spring, diet - and rythmical periodical constant sprays of the most ancient and
common medication known around here, sulphur alternate with verdigris once a week (I mean, for instance,
monday > friday, two coffespoonful in a 1.1/2 lt. water, mixed in a spray-bottle of glass-cleansing...obviously,
emptied!) all along the end of this past horrible winter - and this time I won't repeat my too often said word,
"presumption", for I'M TOTALLY PROUD OF MYSELF...here they are:





ACER PALMATA JAPONICA, 28 cms.





CRYPTOMERIA JAPONICA, 29 cms.





(them both, for you to compare)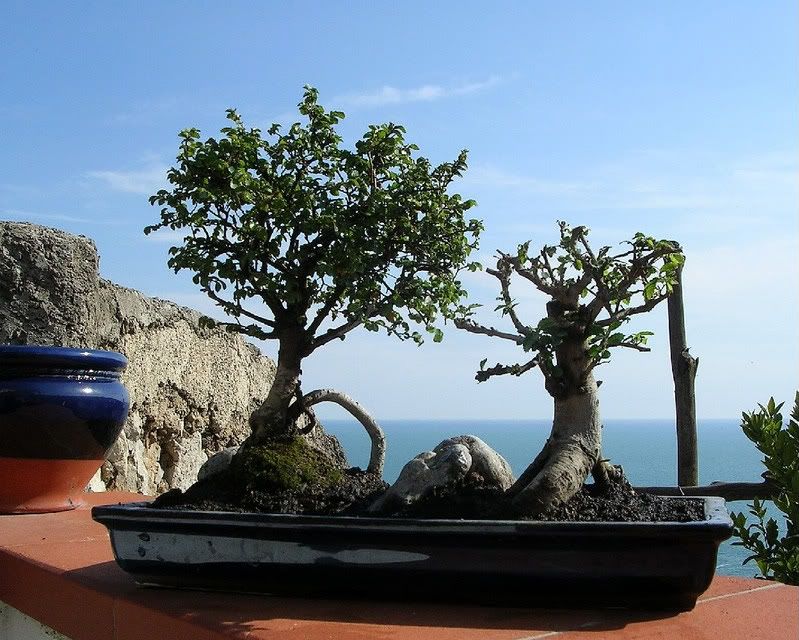 ULMUS PARVIFOLIA SINENSIS, 19 cms - 14 cms


I like to add a photo of these last two, my "micro-zen garden": please come sit herein and enjoy!





PS, one more mini-comment...be quite sure that EVERY bonsai gardener will SHAMELESSLY LIE if you naïvely ask
him "how old are your plants?" - I can only say that I have my ULMUS since 1978, and it was already far more than
adult (been told then that it was about 60 years old...as well as my MOMIJI, sharing my life since 1980, which knocked
at my balcony around his 40s - can't say much about the CRYPTOMERIA, which seems to be the youngest one...with
me since 1998, but I'd say it is a NICELY AGED SIGNORINA, ne?