...THE ARCHITECT...
well, I seem to be missing herein since Jurassic!...paying today a due honour to the new-graduated Architect
("technical and creative designer of fashion and accessories"), my daughter Gaia, wearing here the dress that
she herself created for the occasion...followed by a funny micro-collection I sketched years ago, which she's
now "reducing" to technically suitable/correct designs...YUK!, isn't it a good collaboration? so, all the charming
Ladies whose friendship honour me as well are invited: some details about the fabrics, décors, accessories and
realization can be read below each image:



"SILVER RAIN"
grande soirée dress, PaynesGrey silk satin edged in Anthracite silk satin and plotted with silver threads; the
stole has a long silver/grey binge; "ballerina" shoes, also edged by a subtle anthracite line, are made of the
same fabric, with a flat lacelet strictly tied to the ankle; all accessories and jewels are pearls tied with silver.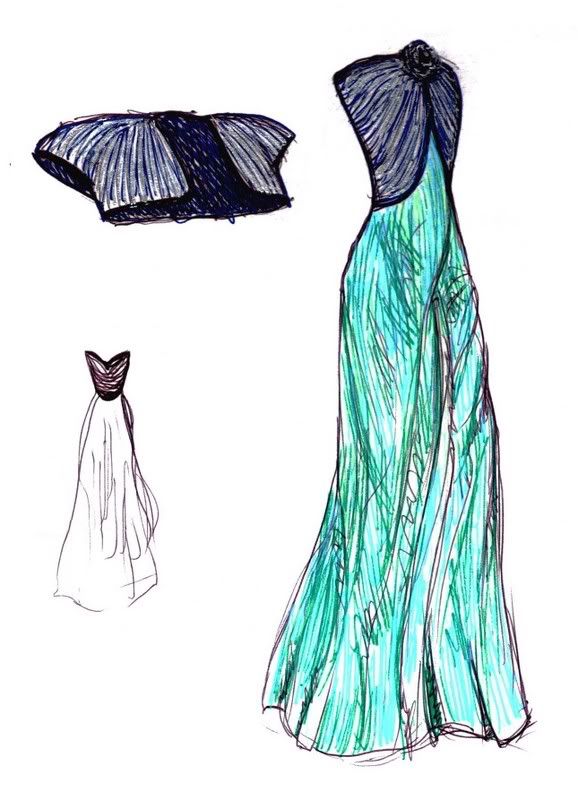 "WATERS"
grande soirée, a transparent multilayered satin dress in all the lightest colors of seawaters; the high-chest ending
top with its "rose-like knot" and the bolero jacket are both composed by hundreds braids of NavyBlue velvet and
silver round-section lacelets, applied for both the items on a NavyBlue silk satin base.





"FIRST NIGHT"
PearlIridescentWhite and Black silk satin for this grande soirée dress: stole and rose are in the same fabric,
as well as the shoes; the "nest" starting over the rose and completing the dress on the back, edged in the
same satin, is composed by micro-tubes of aemathite on elastic, to suit the body at its best.





"LHASA"
grande soirée dress in heavy velvet DeepMauve and DarkOrangeYellow: an extremely simple composition,
where the most glamorous item is the longest wig, done with Raven Black silk entertwined with gold threads
and decorated with semi-precious stones as turquoise, oxidiane, jade, coral, ending with small gold ferrules.