for the "BATTENTI"
...many reasons to my long silence - one is here, under your eyes: horrid photos, I know!, but it was
impossible to scan properly such a work...I promise I will try and change them (if I can take new and
better done ones) as soon as I can - or maybe when this work will be gifted to the Brotherhood whose
name you can read on the piece...let me now say what it is:





such objects are called CONCERTINA BOOKS - a long multi-folded sheet generally tied into two wooden covers, and usually kept in a leather bag: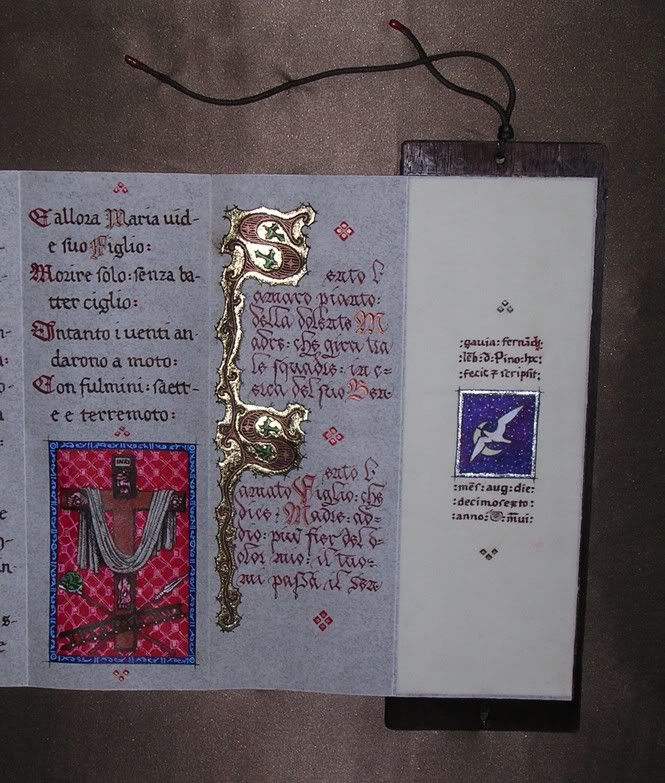 my own one was born from a very ancient tradition strongly alive in my birthtown: on Easter week, a company of
white ghost-like-dressed men slowly walk the whole circuit of little churches and chapels from up the hills to the sea,
and finally to the main church of the town lays, acting as if that path was the Golgotha Calvary Procession, and singing
these ancient texts - ONLY MALE VOICES – at every "stazione", as each stop of the so-called Via Crucis is said...but the
main and most peculiar thing is that these texts are sung (unique, in the whole Mediterranean area) on melodies built
ONLY on greek and arab musical tune scales (pentatonal).

...I played very often the Christ in these procession, when younger – and, although I do not consider myself a catholic,
through these summer days I happened to get once again near to that company and meet again these Persons who work
so very hard (and not paid!) to keep the tradition alive and the ancient items in good conditions...so I've been paying
my own "hommage à" to all the excellent mates and Priory of this ancient "Arciconfraternita del Santissimo Sacramento"
in Minori, the small town where I was physically born.

the work is 25.3 x 126.9 cms. sized, and ALL the materials I used of are absolutely dated back to about the second half
of XVII century or the full middle XVIII (colors, inks, leathers and wood)...excepting, obviously, the gold, the silver
and the parchment paper sheet.

PS: I SUPPOSE I'D BETTER GIVE SOME CLEARER EXPLANATION AND INFO ABOUT THE BIRTH
OF THIS WORK, SO PLEASE ALLOW ME TO INVITE ALL THE GUESTS ON THIS PAGE TO ENTER
THE COMMENTS AND SCROLL TO THE FURTHER PHOTOGRAPHS AND LINES I'M ADDING THERE.