Thoreau's compass
...I know, many of you will think that I'm in love with this Thoreau passage:
but I need to send my new piece to London's Society of Scribes and Illuminators,
for the 2006 "Lay Member's Day" exhibition, and I can't make up my mind about
which new folio I should choose, so I thought I could submit to you all of them,
and wait for this funny "referendum" 's exit - believe me , I'm sincerely curious:
wonder what a response I will sort out of that...!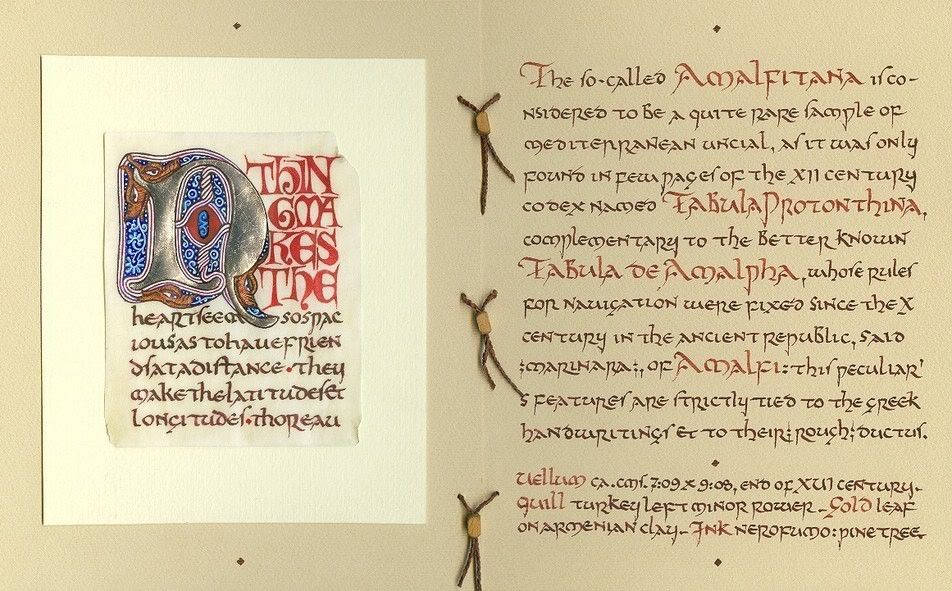 - vellum, irregular, ca.cms 07.09 x 09.08, last quarter of XVI century ;
- burnished silver leaf on red bole;
- ultramarine blue, lead white, carmine red;
- inks: lampblack from pinetree cenders; nut brown;
- turkey left minor rower quill & reed "qalam";
- graphia: "uncialis amalphitana" (ex "Tabula Protonthina", comment to "Tabula de Amalpha", ? Xth-XIth century).