TRITTICO
once again, following a serious and repeated request by some friends:
I've been more and more asked to "please, post something ITALIAN,
at last!"...so, this trittico was composed with three sonnets by
the three perhaps most famous friends of our literature: Lapo Gianni,
Dante Alighieri, Guido Cavalcanti – I chose three very similar things,
according and answering one another (sort of a medieval western renga)
as they all say of love's sorrows, and of hope in a peaceful different
dreamt world to live in and enjoy all together, with their loved ones.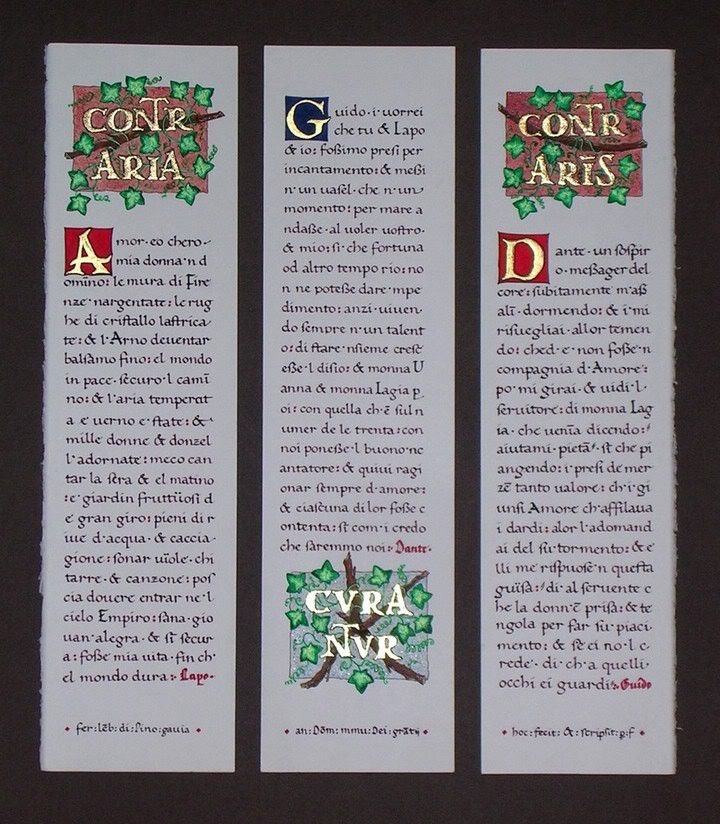 - graphia: "miniscula italica secunda" (approx. first quarter of XV century);
- calamus: seagull's medium rower (left wing);
- ink: "ferro-gallico", with olive cenders and arabic gum;
- support: handmade Amalfi paper sheet (silk 60%/cotton 40%) three-cut;
- colours: terræ (siena, burnt umber), temperæ (outremer, viridian);
- gilding: 23.1/3 kts. gold leaf on gesso, burnt apart.


I suppose it won't be a problem, for you all, to search these three texts
in translation to (all) your languages on the web – if you really NEED me to
type them apart, among comments, just let me know...but please believe it's
not an easy promise I'm doing – who could dare and try an essay on this?...