I AM
I have repeatedly been asked by many friends to post something "more" - which means I've been
suggested, solicited (and "tickled" I need to admit) to post more of my scribe's work on these
pages...and I have been mumbleing lots about that, as I wasn't too much satisfied by the some
previous steps I have tried on such a "too personal" ground, neither did I feel "serious" by
crossing the haiku territory with so a different path - I decided then to post one, for now,
which I consider truly showing my being 「gabbiano ・かもめ」 , both with image/work and my text:
I hope you all will be so kind to me as to forgive this choice I would have to do, now or later.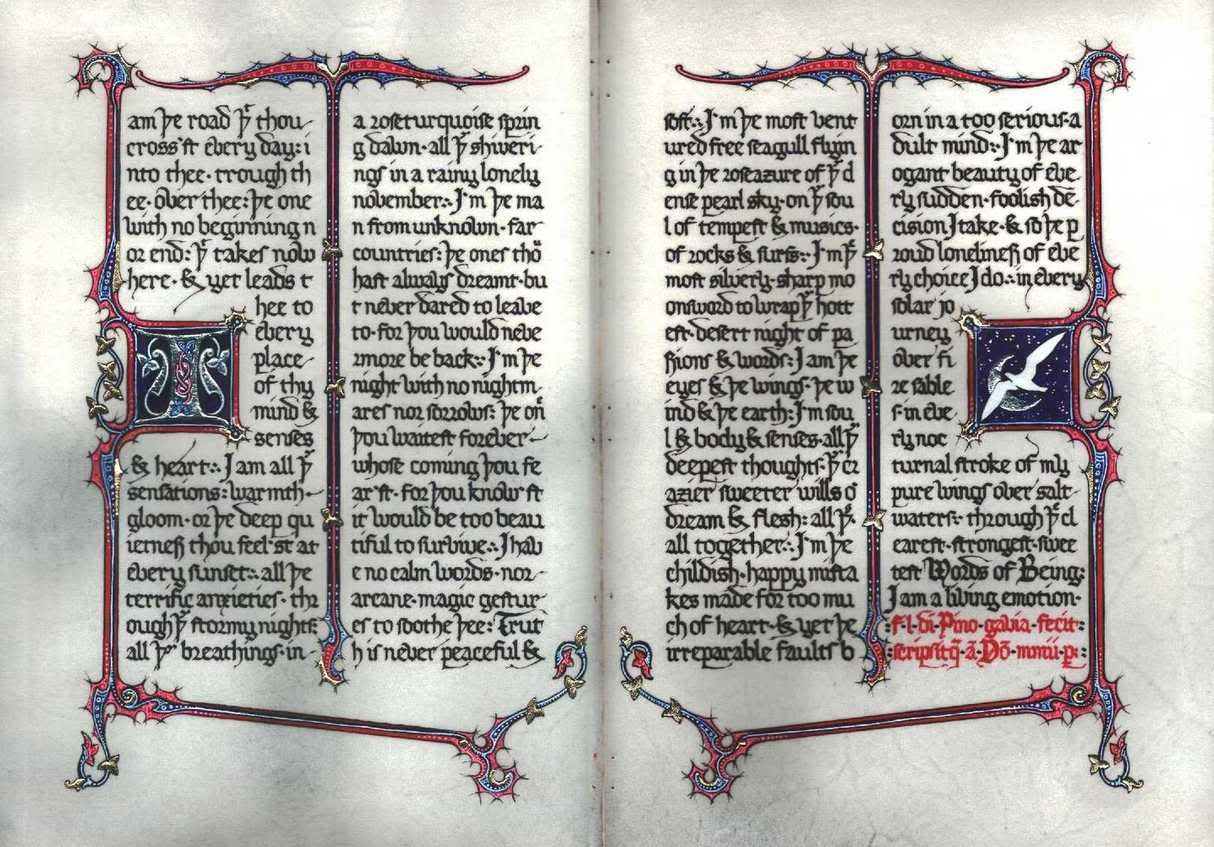 I am the road that thou cross'st every day, into thee through thee over thee - the one
with no beginning nor end, which takes thee nowhere, and yet leads thee to every place of
thy mind and senses and heart...yes, I am all thy sensations - the warmth, the gloom, or the
deep quietness that thou feel'st at every sunset…the terrific anxieties through thy stormy
nights, thy breathings in a roseturquoise spring dawn, thy cold lonely shiverings in a rainy
greylead november...

...I am the man from unknown far countries - those ones thou hast always been dreaming, but
never dared to leave to, for thou know'st thou would nevermore be back from...I am the night
with no nightmares nor sorrows - the one thou hast been waiting all of thy time for, but
whose coming thou fear'st, for thou know it would be too beautiful to survive at last...

...I haven't got calm words to say, nor arcane powers, nor magical gestures to soothe
thee - for Truth is never so soft and peaceful...

...I am the most ventured and free seagull who had ever flown in the roseazure of thy dense
pearl sky - on thy soul of tempests and music, of surfs and rocks and sea...I am the most
silvery sharp moonsword to wrap thy hottest desert night of words and passions, I'm the eyes
and the wings, the wind and the earth, I'm soul and body and senses, and all thy deepest
thoughts, all thy crazier sweeter wills of dream and flesh - all this, all together...

...I am the childish happy mistakes made for too much of heart, and yet I know I am the
irreparable faults born in a too serious, too adult mind...I am the arrogant beauty of
every foolish sudden decision I take, and so the proud loneliness of every hard choice
I make - in every solar journey over fire sables, in every nocturnal stroke of my pure white
wings over salty waters, through the clearest strongest sweetest Words of the Being

I am a living Emotion.